Exporting Model Setting Files
You can export the settings made in Cubism Viewer as a json format file.
How to Export
For those items that can be exported in a file, such as physics, facial expressions, poses, etc., the respective settings files must be written out in advance.

From the menu, click [File] -> [Export] -> [Model Settings (model3.json)].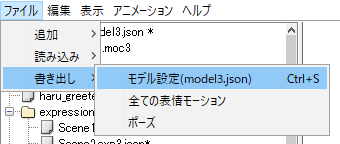 Drop the exported model3.json file into the Viewer, and it will be loaded with all the settings you have made at once.
Was this article helpful?